Rolling Newsletter Autumn Term
We hope you enjoyed the Christmas Carol Concert if you were able to come.
Our talented singers, speakers, recorder players, French singers and our school choir made us all feel very calmed before the excitement of the Christmas holidays!
Merry Christmas to all our families and friends.
Have an enjoyable and safe holiday.
The PTFA Christmas Disco was a huge success this year. EYFS and KS1 didn't mind being photographed dancing and enjoying themselves. KS2 were far too shy!
The Christmas display in the hall is worth a look. Every class has made one of the displays. Pop in to see them all.
Children in Need Day.
We raised a lot of money for this great cause by dressing up in a costume that fits our hobbies outside of school.
The Karate Club demonstrating their expertise in assembly.
There are places available for this poplar club after school on Thursdays if your child is interested.
Run by Budokai Martial Arts. Taught by one of our former pupils. For more information contact 01535 643129
We were really pleased to reacquaint ourselves with an old friend of school – Natalie Speake - who came into school as part of a project funded local arts group verd de gris.
The idea was to work across generations on Hopes and Dreams. Natalie works with a Dementia group in the Town Hall and so she introduced our Year 5s to her group.
The children wrote about their hopes and dreams eloquently and performed a dance routine that encapsulated their aspirations for themselves and the world.
It was a thoroughly moving event for all concerned and we were able to show our parents and friends it today in Celebration Assembly – there were many amazed and proud faces when our grown up saw what we could achieve!
Harvest appeal
We think it is really important to help local charities and our local community so we were happy to provide our support to the Todmorden Food Bank again this year.
Thank you to everyone who donated, a big thank you to my three helpers who moved all the donations into FIVE boxes, and to the mum who delivered them to St Mary's for us.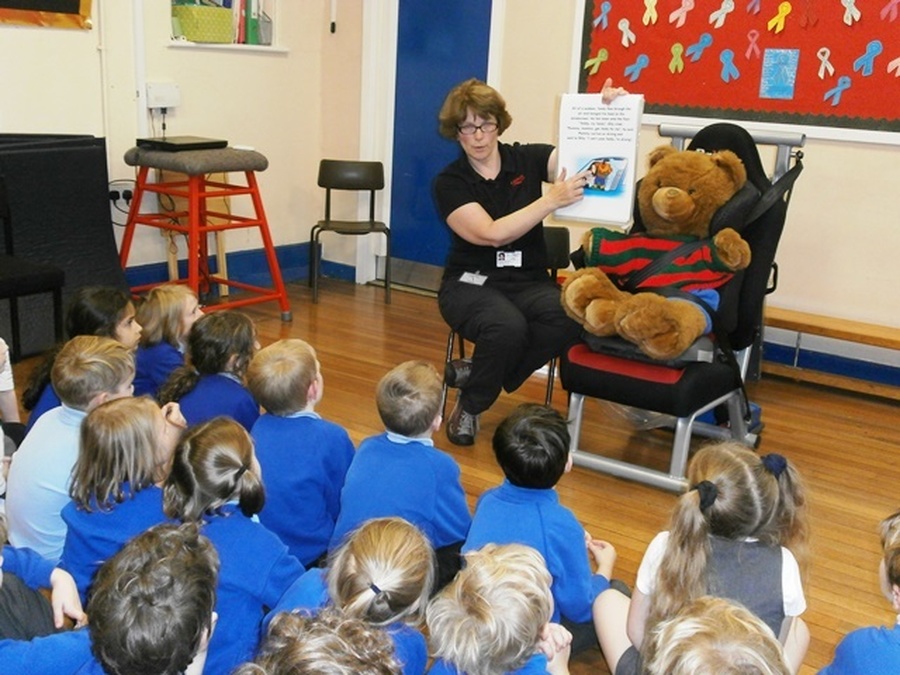 KS1 children took part in a session aimed at encouraging them to use a child seat and seat belt whilst travelling in a car.
More information here.
Another extremely successful Macmillan Coffee morning.
Thank you if you were able to come to help us raise money for this worthwhile cause.
Thank you very much for all of your donations of delicious cakes.
Well done to the school council for their help too.
When we were challenged by the church warden to make a scarecrow per class for Harvest – we never imagined how diverse our offerings would be!
Congratulations to everyone for a magnificent effort.
Congratulations especially to Year 6 for their Lord Kitchener scarecrow and to Year 5 for their super scary Medusa scarecrow.
This is a message from Denise Burke, the Church warden:
"We had 21 scarecrows in church on display today. Everyone who viewed the school scarecrows was impressed by the thought and effort that had gone into making them. There were lots of lovely comments.
Hebden Royd has 2 winners!
The Most Creative Scarecrow - Year 6 - Kitchener. This absolutely wowed everyone who viewed it. People loved the pumpkin face and gardening clothing and thought that the leek in the pocket was a nice touch. Also the printed attachments on the jacket received lots of comments.
The Scariest Scarecrow - Year 5 - Medusa. Her facial expression was very frightening and the snakes in her hair were scary as well. If you put this scarecrow in a field she would certainly scare all the birds away!
Please give a massive thank you to all the children for participating and to all the staff for supervising."
WE were invited to Mytholm Meadows to get involved in their 1950s afternoon.
Year 6 volunteers learned two fantastic songs – Rock around the Clock and Chattanooga Choo Choo.
They performed them with aplomb to a big audience of residents and friends. Then the hard work started – we got stuck in to help play 1950s bingo!
Here we are having a splendid time – we even met Marylyn Monroe!
Thank you for your kind thoughts on the peace ribbons.
The display for International Day of Peace is in the hall.
Pop in and read people's thoughts.