Notices
To all parents who are thinking of choosing Calder High School for their child - this is a link to all of Calder High's newsletters.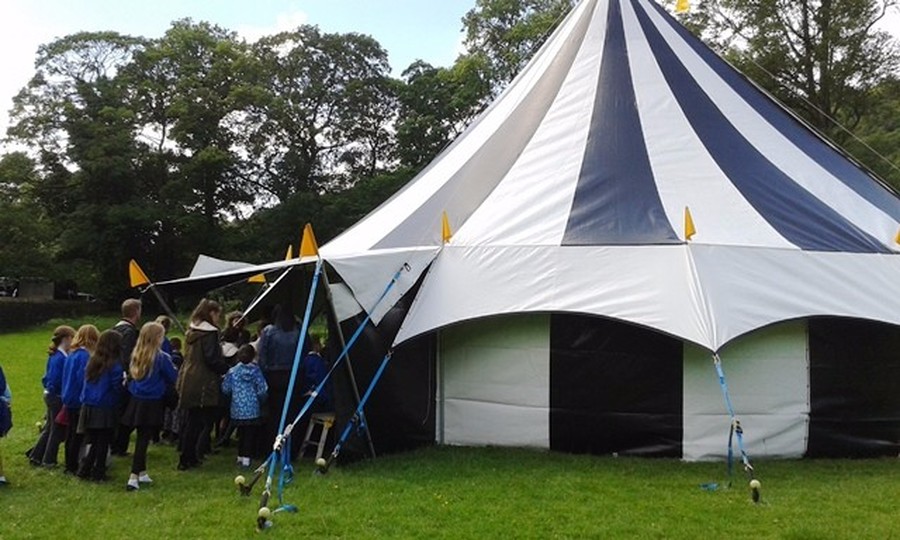 Come in and see our new "Work To BEE Proud Of" wall in the hall.
TParent Advice Sessions available at Central Street School. Click here for information.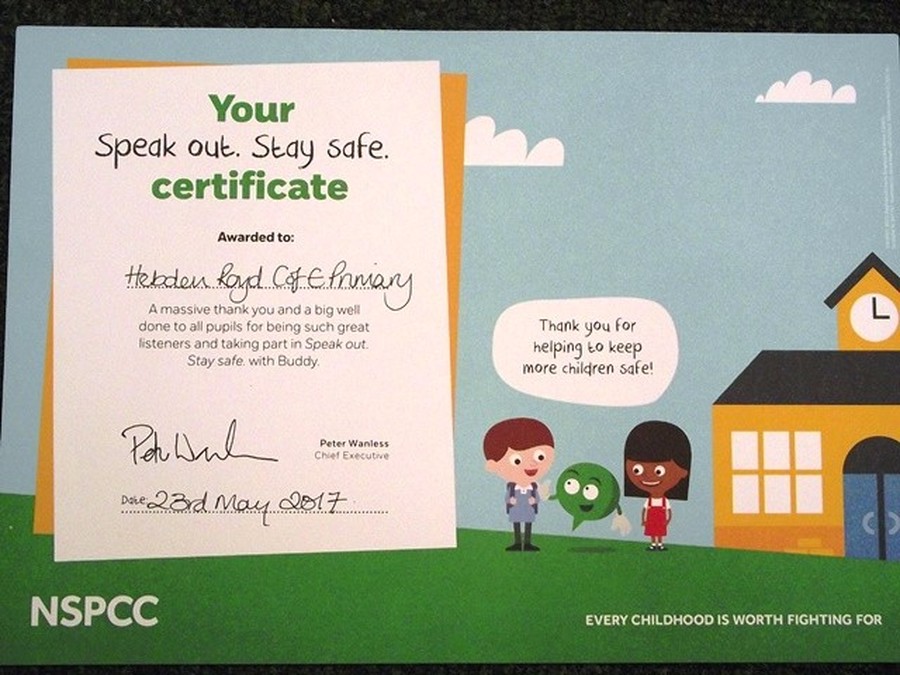 Our Sculpture Trail is back this year for Hebden Bridge Arts Festival. Colden Clough by Lumb Bank.
Each sculpture is made by a class in our school.
Please visit and be amazed at their fabulous creations. Tell your friends too!
We had a very successful One Britain One Nation day.
Miss Young met Kash Singh at a Head Teachers Meeting. He asked all the schools to get involved in One Britain One Nation day. We felt the One Britain One Nation values matched our perfectly. Together on Friday 23rd we will wear Red White and Blue to celebrate the values we all share: tolerance, kindness, pride, respect, and a tremendous desire to help others; irrespective of colour, race, nationality, or religion, whether we were born in Britain of have chosen to live here.
Now we've been tweeted twice in one month!
See us on the One Britain One Nation page here.
We have decorated our trees for the Hebden Bridge Arts Festival
The whole school were fortunate enough to enjoy a circus performance on the school field last Friday.
Years 3 and 4 stayed for circus skills training with some of the circus performers. They had a fabulous time learning how to hula hoop, do tooth brush twiddling, acrobatics in which they practised balances and made a human wall.
A great time was had by all!
"Children are our planets' wildlife guardians of the future, if we can help instill in them the importance and benefit of helping to protect nature, we will have sown the seeds towards a better future for us all."
Mark Oliver
Event Organiser
Walk 4 Wildlife
We had friend of school Olivia in to tell us about her amazing job with Wildlife Vets International and to get us up and running for Walk4Wildlife last Friday.
We completed a circular walk from 1.30 on Friday 19th to ensure that we were all still walking when it is the Guinness Book of Records allotted time at 2.15pm. We really wanted to be a part of the world record mass walk.
As we walked we looked for and counted the animals seen hidden for us by the Year 6 school councillors.
All the correct slips will be put into a hat and one lucky child who has their slip pulled out first will win a tiger to take home.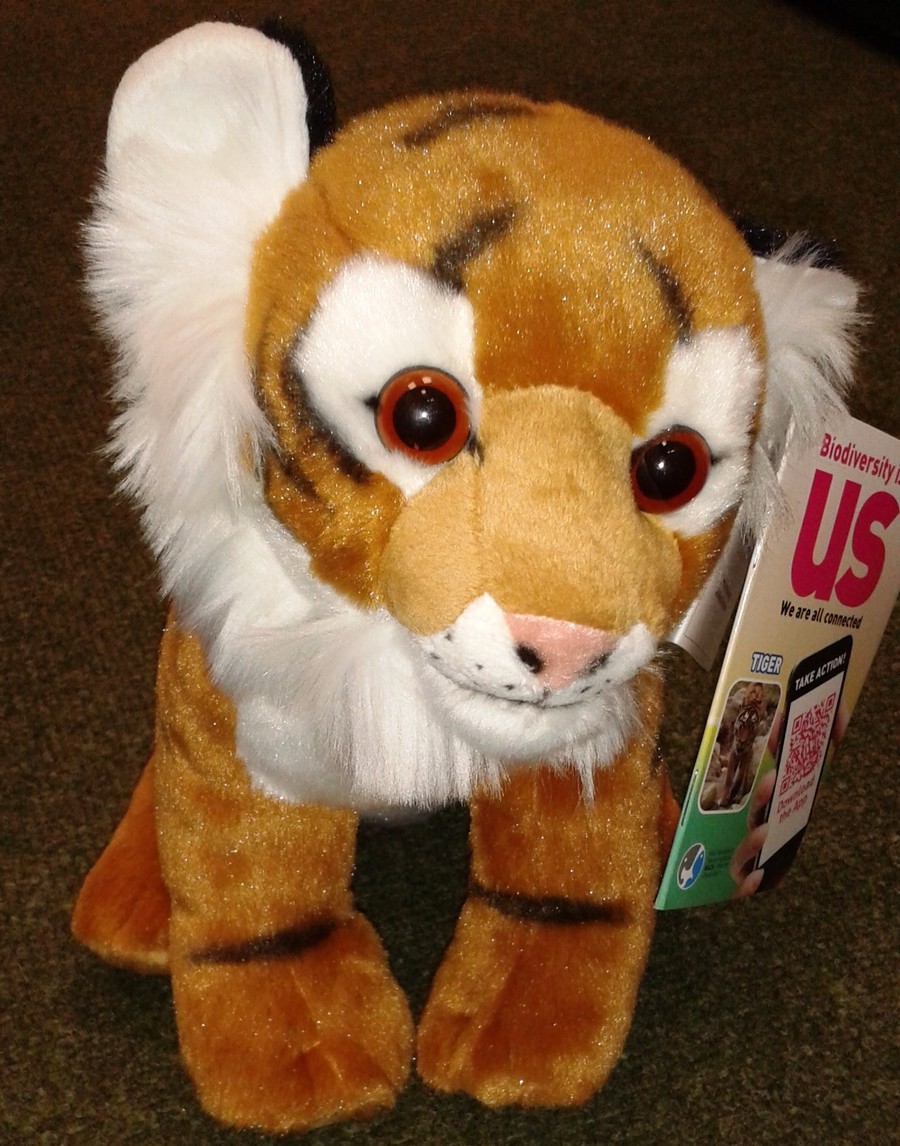 We love Reading.
Can you guess which staff are hidden behind these books?
In our extremely difficult quiz about the bookshelves of our staff we are delighted to announce that there was a tie for first place – Lola, Flo and Amelie's mum had only 4 incorrect guesses out of 20 and so did Mrs Butterworth! Here's a photo of the girls as they take their mum's prize home.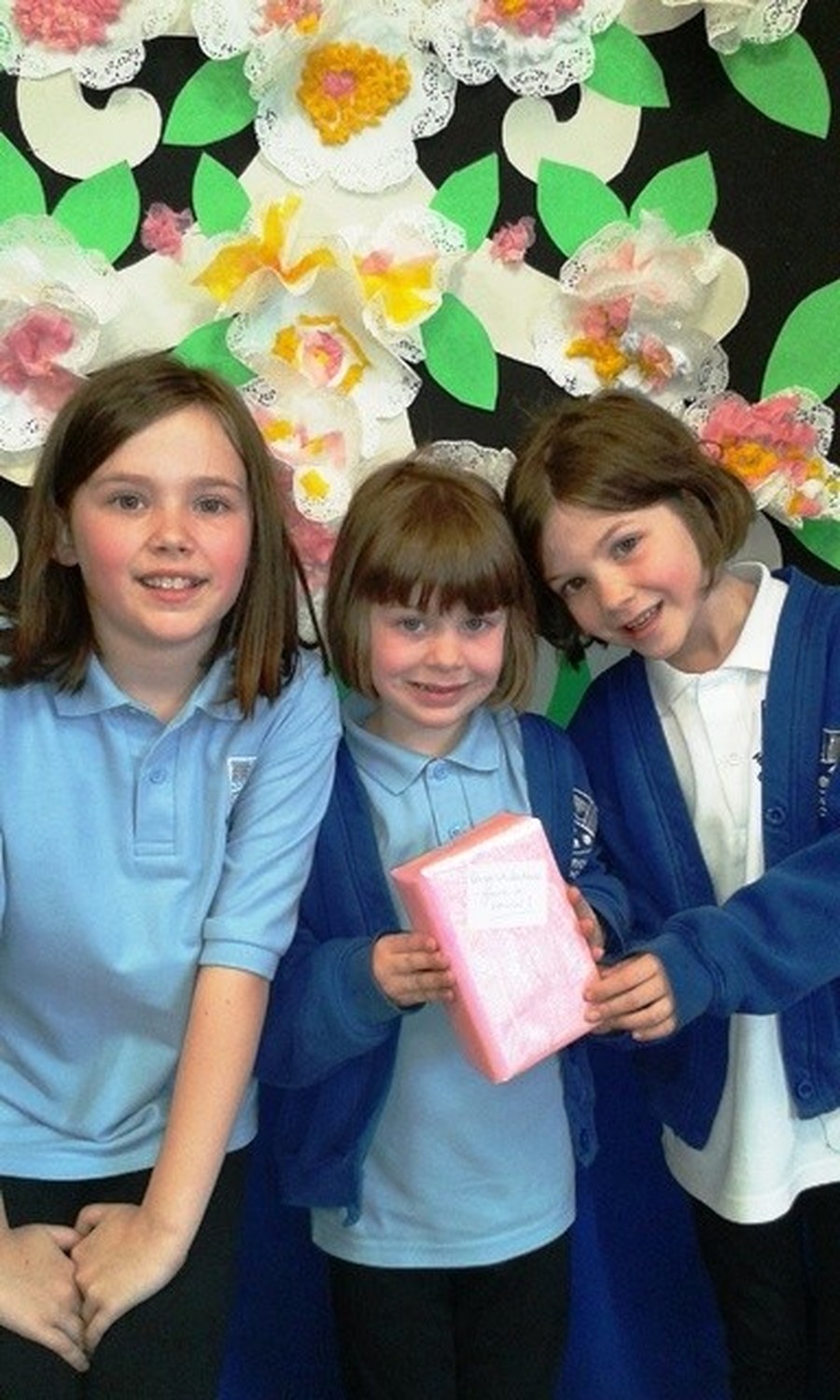 Reverend Calvert visited to help us make our own Palm Crosses.
Look at the updated Easter page here for all the Easter activities that took place. There was a moving church service, decorated eggs and beautiful bonnets. Look at the photos on the Easter page to see our talented and creative children.
We have a special mention to Lilah who came in with her decorated egg on her "day off" and to Reception and Nursery who were at Forest school land so missed the competition but had fun parading their hats in the afternoon.
Also a special thanks to the kitchen staff who hid eggs in our classrooms and bought eggs for those children who had displayed egg-cellent manners in the lunch queue.
Congratulations to our year 6 quiz team who are through to the grand final.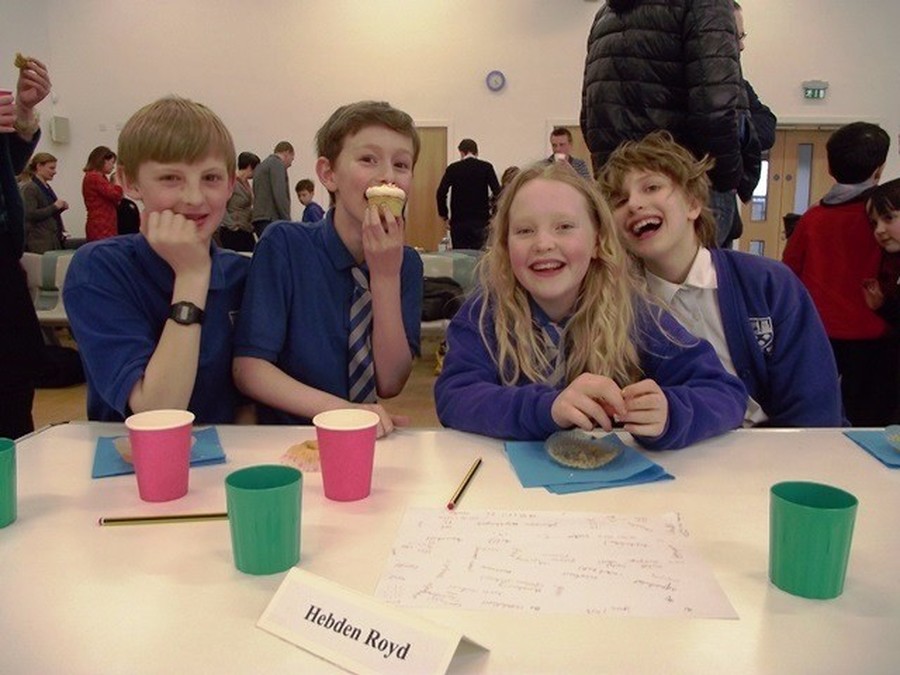 Raising money is such great fun!
Red Nose Day took over Hebden Royd School today.
At a school council meeting last term Pippa suggested we get ourselves a Friendship Bench.
Rather than buy one from a magazine the council decided to open up a challenge to our pupils and so a competition was set up - we all had the opportunity to design one – the winner design would be made up by Mr Eccles. We had lots of lovely designs sent through; poor Mrs Kay had the job of judging the entries. Soren and Ravi were joint winners – they both had similar brilliant designs and so the bench here is an amalgamation of their ideas. I'm sure you will agree that it looks fabulous in our playground. Well done everyone.
We are very grateful to the Rotary club of Hebden Bridge who provided us with lots and lots of crocus bulbs last year – they are all here on display and we have remembered that they were symbolic of the purple stain on your finger that you were given when you had received the polio vaccine. We are currently learning about Freda Kahlo in Art and she had polio, so it is a subject close to our hearts at the moment. Thank you again.
Year 5 found ourselves so high up in the hills that we were getting wet from the low cloud as we started our tree planting day.
We were working with our friends from Treesponsibility and were challenged to plant part of a Hawthorne Hedge – we put in 165 plants in just two hours!
We all realised that we would be able to return to the spot annually and see the hedge that we had made and how it is growing and how it helps to slow down the rainwater as it heads for the valley bottom. Hope fully this one of many measures will help to prevent Hebden from flooding so badly again.
We hope you had a lovely break for February half term. Mr Eccles was very busy! We had lots of moving around so that the playgroup resources are now in the PE cupboard, the PE resources are now where the table used to be in the kitchen and where the playgroup resources used to be we now have a warm and cosy room for a group of pupils to work in.
As the weather improves we will be looking closely at the courtyard at the back of school – we want to landscape that to make it more appealing to look at than it is at the moment!
Then the photos can be here . . .
Young Voices
Children from Years 3 to 6 went to the Manchester Arena to join in with the Young Voices Choir 2017. We had lunch on the train and arrived in Manchester with plenty of time to spare to be amazed at how big the arena is!
We spent the next 4 hours rehearsing and getting ready for the big show when our parents arrived.
Although they were only over the arena we struggled to see them so next time we're going to ask them to take a banner just like we did!
We had a great time and sang our hearts out! We LOVED the dancers from Urban Strides – we have asked Miss Young to get them in to our school – and the Beatbox Collective!
Miss Young said we were a credit to our school and we all got home safely after such a long and eventful day.
Burns Night dancing
A friend of school Marguerite runs a dance class at the Town Hall for adults with physical and learning disabilities. We were invited to help them with their Burns Night celebrations.
So we spent a few weeks learning two Scottish Dances – The Gay Gordons and The St Bernard's Waltz.
We had fun learning these dances and were able to show our steps to all the visitors from Marguerite's class and to a table from a Hearing Impaired group.
Sam suggested that we sign Good Morning to them and so that was how we started off.
We had a lovely time and managed to dance with some of the visitors, drink juice and eat some shortcake before setting off back to school for lunch!
Cross country
Such a cold day! We had to wrap up in blankets. Everyone went as soon as they could but Year 6 had to stay until the end!
Gold, Silver and Bronze medals were won.
Everyone finished the course and had a real sense of achievement at the end.
Well done to all the runners.
Letter from BBC1 "Eat Well for Less" programme.
I am writing from the hit BBC One prime time series 'Eat Well For Less?' because we are currently in production with a brand new series of the show. My reason for writing is that applications are now open and we are currently on the lookout for fun and lively families who would love to save some money on their weekly shop and eat more healthily.
The show follows Masterchef's Gregg Wallace & award winning greengrocer Chris Bavin on a mission to prove that it is possible for families to save money on their food budget without scrimping on taste and nutrition. They hope that by analysing the shopping habits of UK families, they can help to show where we can source the best and cheapest quality food.
A local initiative "The Gift of Giving" came our way this year. Our Gardening Club were challenged to make table decorations for the residents at Mytholm Meadows and for the Waterfront Hall in the Town Hall.
Here are the centrepieces we came up with – we were so busy making them we forgot to take photos of us all in action!
When the choir went to sing to Mytholm Meadows we took the table decorations with us and found that they had coloured Light Catchers for us all. It was a lovely surprise – they are really colourful and there are so many that every family will get one.
Here are the Gardening Club members of the choir with some of the residents that did the most colouring!
Finally after our trip to the Square Chapel, five of the gardening club who were travelling on the train snuck off to the Town Hall to see the table decorations in action at a Christmas Party afternoon where there were some of the residents from Mytholm Meadows and some of the disabled dance group that meets there weekly. We had a dance and even managed to sneak in a small mince pie before rushing back to school for our Christmas Dinner!
Enjoying an ice lolly during the interval at the Square Chapel's Wizard of Oz show.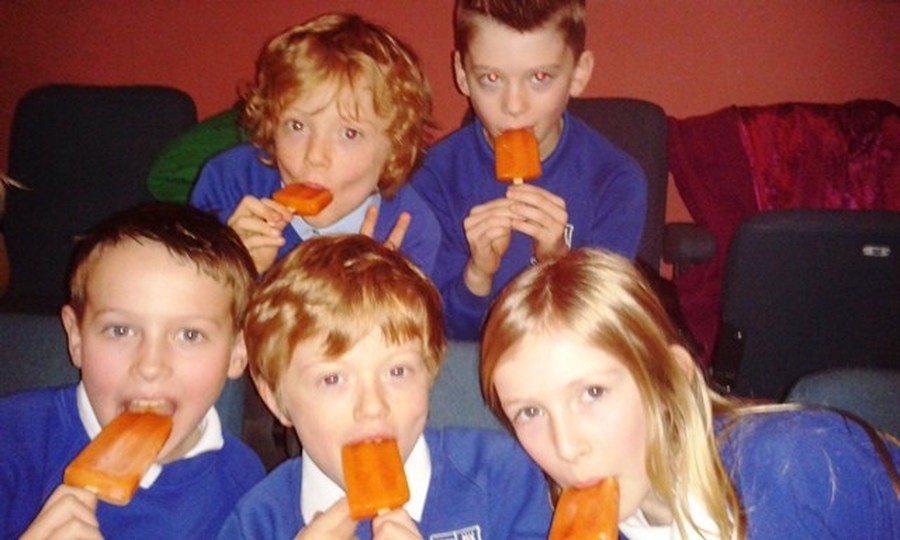 Another fabulous cross country event at Calder High this week. Cold and muddy but great fun!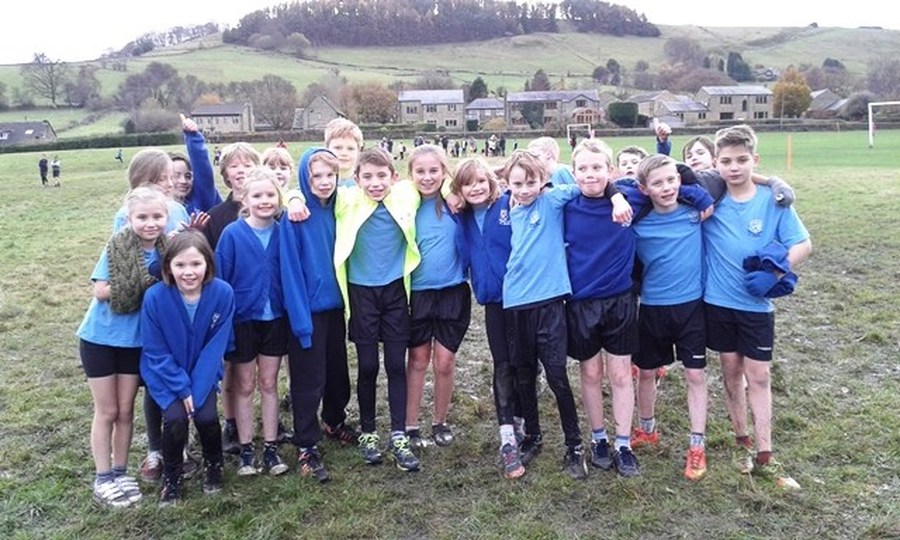 Anti-bullying week this week. Each class designed and made their own superhero with special powers.
The theme was "Power for Good".
Look at the amazing superheroes that were made. Ask your child about them.
It was Health Week this week. So much happening this week!
The most exciting part was Box2BFit. All the classes took part in this and had great fun working around the stations following different exercises to a timer
We celebrated Children In Need today. Lots of spots and stripes! The children looked fantastic. Thank you for your donations for this worthwhile charity.
Well done Evie Bailey
Evie received her award today from Vision for education in association with the TES, for her amazing piece of work written in the style of Roald Dahl.
She was presented with a £20 voucher for Waterstones by Simon from Vision – happy shopping Evie !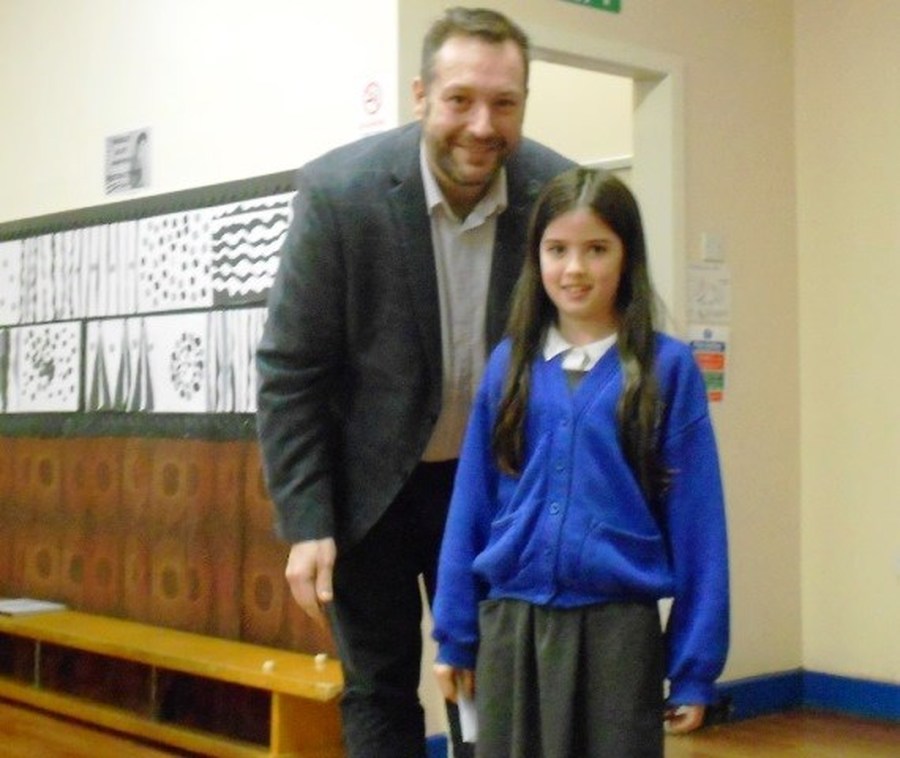 World Peace Week began on the 17th October.
Thank you to all our families who wrote a message of peace or a prayer for peace on the dove shapes we sent home. They make for pretty impressive reading on our display.
The week beginning 17th is Safeguarding week in Calderdale, it is also international Peace Week.
We are sending home doves on Monday 17th for you and your family to write a thought, a message or a prayer for peace on. Please return them as soon as possible and we will display them all on our big board in the hall.
We will be looking at how to keep safe around school and home and how in this world when hurtful things are said or done it is impossible sometimes to take those words and actions back. We will refer sensitively to some of the conflicts around the world, past and present and how hard people work to try to make things better for everyone involved.
Your children will bring home leaflets from key agencies related to Child Protection such as West Yorkshire Police and NSPCC. We will put links to these on our Website at the end of next week.
Remember we are closed for staff training on Friday 21st October.
Harvest
Thank you to everyone who donated tins or packets to our Harvest appeal.
Here we are boxing it all up and then Mr Eccles took it in his car to Todmorden Food Drop In where it has been very warmly received.
Thank you again for your kindness and consideration.
These are our new school librarians. Each week they will select two children to photograph with their books and to add to 'The Reading Gallery'. Will it be your child?
Macmillan Coffee morning
Thank you to everyone who donated cakes and to those who attended to eat the cakes with their children. We want to send a HUGE thank you to the Co-op in Hebden who so kindly donated cakes and buns to add to those already brought in.
This year's School Council are celebrating the grand total!
We had a fabulous time drumming this week. All classes took part and learnt to follow a rhythm and a beat. All children worked on their own drum and thoroughly enjoyed the experience.
This is Year 3 working together to make up a rhythm.
We were invited to join in part of the 1940s celebrations at Mytholm Meadows.
Of course we couldn't say no!
We dressed up as evacuees and sang one of our songs from the KeyMaster production we did in the summer – everyone loved it. Then we found out some stories of the war first hand from the residents and we had a bit of a dance to the band who were playing 1940s music like Glenn Miller.
Welcome back to school for the 2016/17 year.

We welcome back Mrs Spooner in Year 6 and a big welcome to all the new children who have joined us this year in many different classes. We are sure you will enjoy being at Hebden Royd and will find lots of new friends very quickly.
Racial Tolerance project
Year 6 took part in a racial tolerance project as part of their RE lessons with Miss Young. This involved reading a book called Heartstone Odyssey over the Whit holidays, having a book club type discussion around several aspects of it and then doing lots of creative activities to show their understanding of the text. Their work was displayed in the Town Hall. The exhibition was mentioned in the HB times over the summer. We will display the work in the entrance as soon as it is returned to us.