Rolling Newsletter
Spring and Summer Term
Notices and Letters
March Newsletter here.
Is your child a talented singer?
If so, there is a new Youth Choir called 'Little and Loud' for ages 6 to 11 running weekly from September.
For details click here.
Auditions to join the choir are on 5th July. Application forms need to be returned by 8th June to Calderdale Music Trust.
_
Follow this link here to be reminded of the brilliant work done by Year 6 on the 5000 miles project and by Year 5 on their interpretations around living with dementia and disability.
New items on the Website this week ...
Phunky Foods with Year 3 here and Year 4 here.
Maths outside in the playground with KS1 here.
EYFS on their trip to Hesketh Farm here.
New Science Week page here.
Latest School Calendar Events
School opens

04

Jun

2018

8:50 am - 8:55 am

Phonics Screening Check Year 1 this week

11

Jun

2018

9:00 am - 14 jun, 12:00 pm @ school

Training Day. School closed.

15

Jun

2018

12:00 am - 1:00 am
If your child would like to have milk every day, please order online at www.coolmilk.com. Milk for under 5 is free.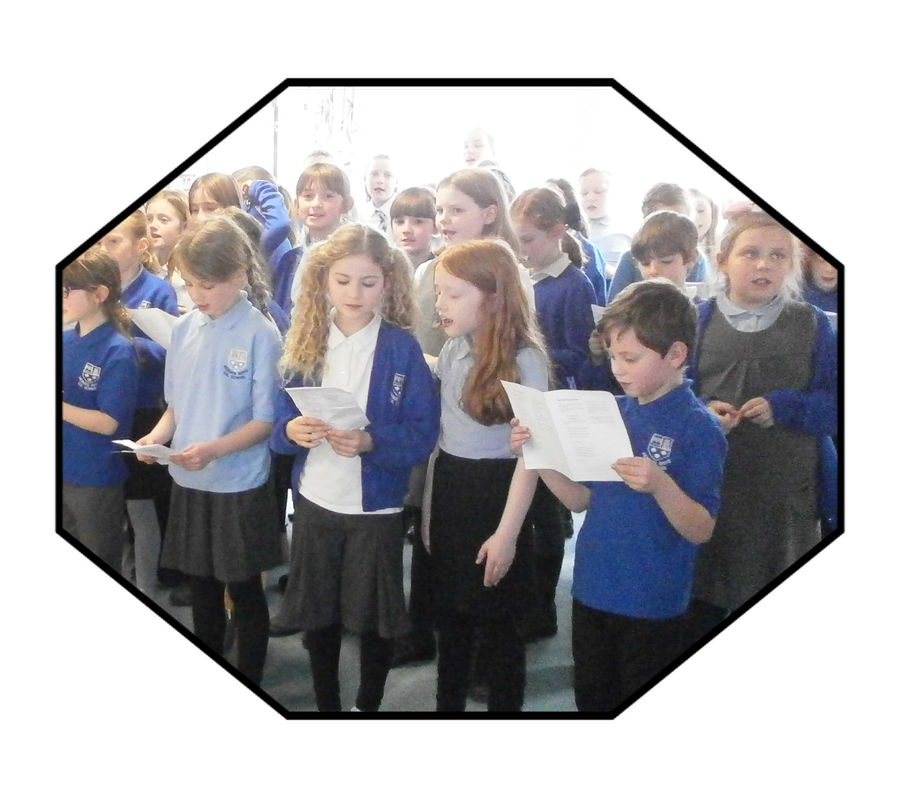 KS2 listened to Mrs Shauman explain some things about the Hindu religion. We made lotus flower divas, decorated Hindi patterns with sequins and matched places of worship to the names of the religion. We discussed some of the different Gods and how Hindus would have a place of worship in their homes known as a Puja.
Thank you to the Welsh Birds of Prey Centre for bringing in their amazing creatures. We learnt so much today about birds of prey. The children who got to hold them were very brave!
Well done to all the children for listening so well and for not scaring the birds!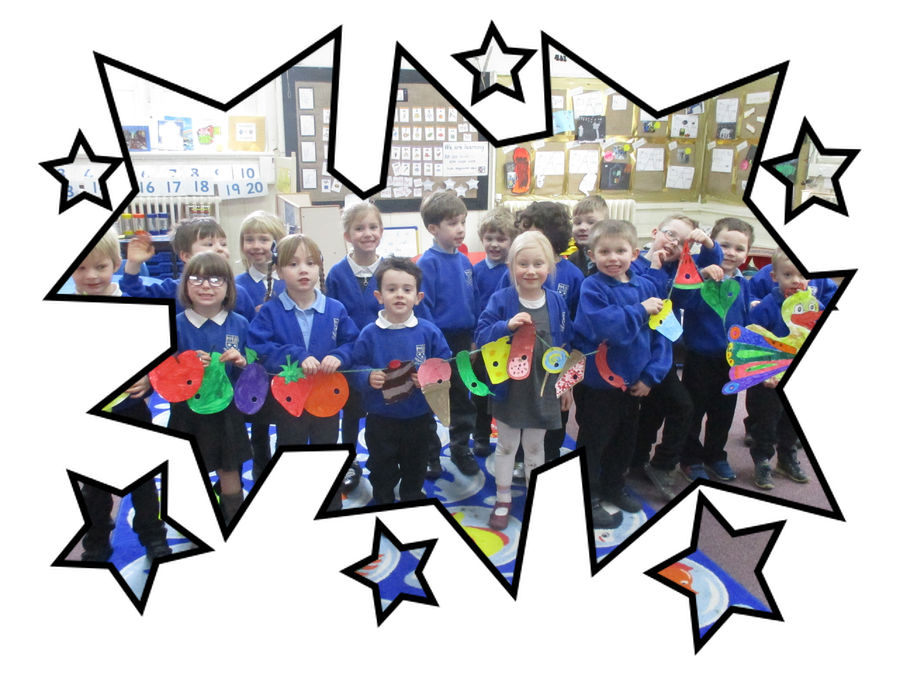 Well done to the Early Years for winning the Rotary Club's Art Work Category Duck Race competition here.
We are so proud!
We hope you were able to come to the Easter Service in Church.
Every class told part of the Easter Service in their own way. Children acted, sang, danced. Every child in the school was involved.
Well done to the whole school for an inspiring performance.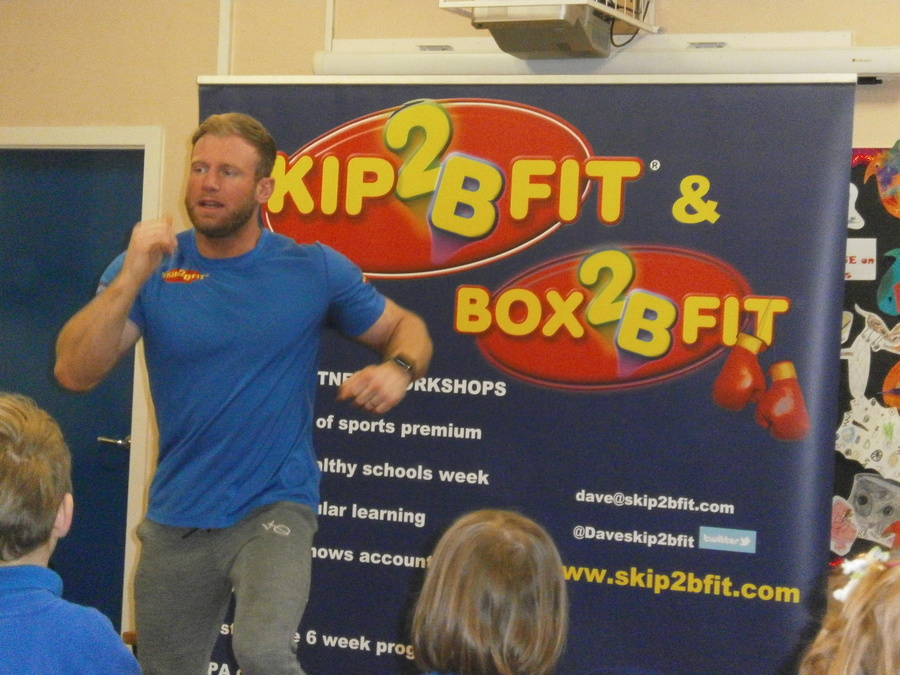 The whole school had an exciting time skipping. Lots of keeping fit advice, activities and skipping on a rope with a counter on. Children were able to increase their personal score whilst having so much fun!
Many activities were enjoyed for Sports Relief week. Here are a few ...
Various sports challenges - Eg. How many catches, how many jumps, how many skips in one minute? ...
Year 5 went to Mytholm Meadows for the afternoon to join in with their "Games Café"
They had a splendid time playing chess, checkers, Dobble, snakes and ladders, Connect 4 amongst others – there was serious game of scrabble going on in one corner and some of our children were taught the art of dominoes!
It was so lovely to spend time together across the generations – we can't wait to go back on Monday to share some of our Easter songs.
All finished off with a biscuit sale on Friday which raised money for Sports Relief.
Huge congratulations to Sam Gibbons, Martha Kidd, Joel Hadari and James Aitkin who came FIRST in the local school's quiz run annually by Hebden Bridge Rotary Club.
They're off to the Shay for the Calderdale wide final in May!
One of our Year 6 pupils – Seth has a passion for fashion and we were able to see his work at the Overgate Hospice Fashion Show on Thursday 22nd March.
He had taken a range of second clothes from the various Overgate shops around our area and had upcycled them to produced some highly sought after items of clothing.
Lucky lad that he is he was able to rope in friends, family and school mates to model his creations – here are a few .
Well done Seth – we're really proud of you.
Apologies for the blurred photos but the action of a fashion show was difficult to photograph!
The whole school made bunting for the Handmade Parade this year. This is KS1 and Year 3 enjoying using painting methods that were demonstrated to them.
Such concentration and care they showed and fantastic bunting was made. Great fun!
The children were given their World Book Day free book and straight away were engrossed! KS1 sat beneath their amazing Quentin Blake display!
Thank you to the Book Case in Hebden Bridge for supplying the books.
All the classes chose their favourite author and made a fabulous display for this year's World Book Day.
Come into the hall to see them.
Year 4 returned to see the Disability Dance Group at Hebden Town Hall on Wednesday 14th. Each group performed their Chinese New Year Dragon Dances for everyone. We also wrote wishes on labels and tied them to a willow tree.
We had immense fun walking to the Town Hall as Miss Young couldn't get the head in a bag and so we had to wear it – if in doubt style it out!

Well done Year 4
We've gone bird mad in art.
Year 3 and 4 are doing a topic on South America – we looked at the toucan painting of Henri Rousseau and were inspired to produce our own take on the theme!
Reception looked at super colourful tropical parrots and compared them to quiet and shy snowy owls.
Year 6 are getting ready for World Book Day on the 1st March – they have looked at the art of calligraphy and typesetting. They are now going to use inspiration from local artist Roo Waterhouse to paint a portrait of their own bookshelves laden with books.
This is a section of one of Roo's shelf portraits.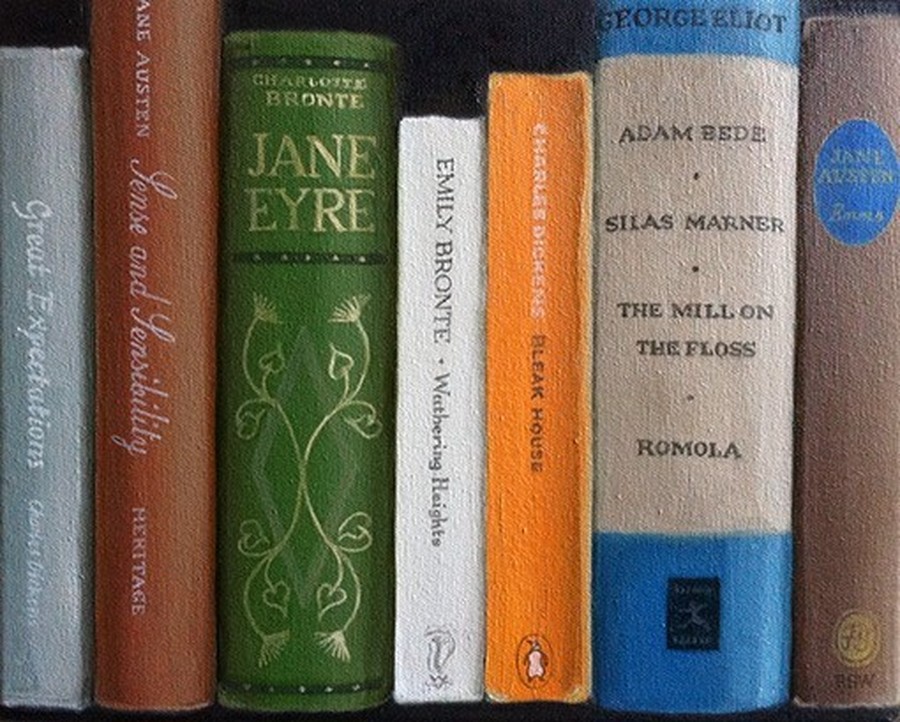 The children of Reception class wrote to Miss Young to ask if they could plant some trees in our garden because they had been thinking about how important they are to our planet.
Miss Young wrote back and set them two challenges!
Read the details on the EYFS page here.
A fantastic half term holiday event.