Music
Hebden Royd is a musical school and is proud of the musical opportunities which our children are given.
We held a Spring Serenade to allow children who have music lessons to perform to their parents.
A very successful evening and a huge audience!
Year 5 and 6 dancing the Charleston.
KS2 have been learning the Sailors' Hornpipe dance. The children made up their own dances in a group and performed them to a very high standard. Enjoy the dances!
Year 6 took part in the Calder Valley Cluster's Summer Extravaganza on Wednesday night. They sang "What A Man!" from our summer production Hoodwinked. This year as part of the interschool council we had been working on understanding disability and so we signed along to ''Wonder'' by Emile Sande with all the other schools represented.
We had a great time and wowed all our parents with our brilliant routines! Thanks to Mrs Thomas for getting us up to scratch!
Parents of children learning to play the guitar were invited to assembly when their children performed for all of us with their guitar teacher.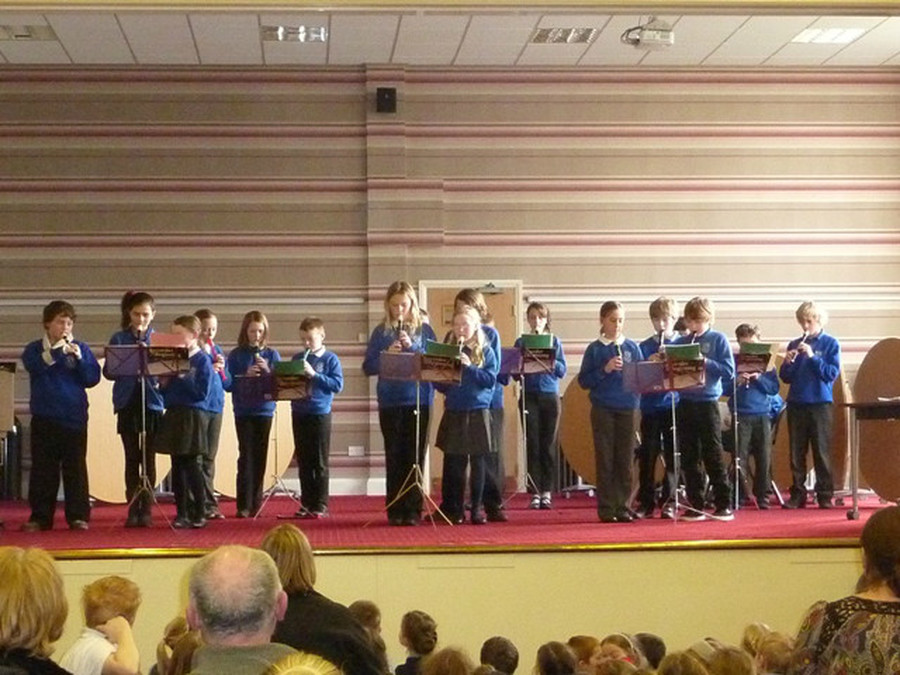 Year 3 to 6 learn to play the recorder, starting in a whole year group setting in Year 3, then continuing in small groups during Years 4 to 6. They have opportunities to perform to parents in assemblies, and this year 14 children participated in the Calderdale Music Hub Festival, winning gold and silver medals and a trophy.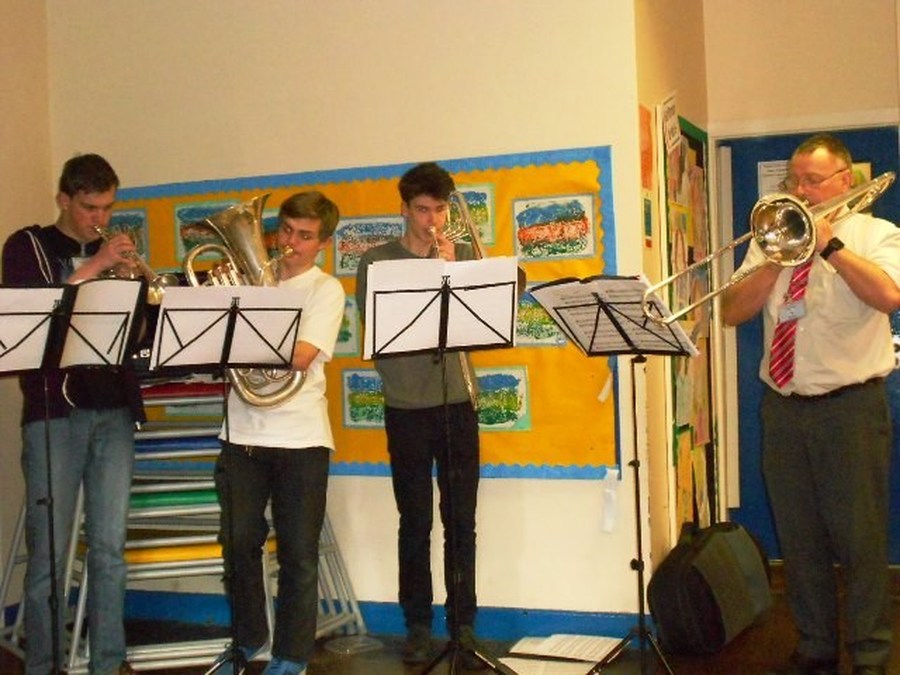 Two of our ex-pupils, Tom Bull and Joseph Etherington, returned to show us in assembly their brass band skills. They now play for Hebden Bridge Junior Brass Band.
Year 3 and 4 dancing Rock 'n' Roll.
Aren't they fantastic? Does it make you want to skip around? Do you recognise the children in their costumes?
Young Voices
38 children and 4 staff travelled to Manchester Arena to take part in the Young Voices Choir. It was a mass of schools, over 2,000 children and a lot of noise during the rehearsals. We were ready for it as we had been learning the songs since October, first with Mrs Thomas then with Mrs Moore. We had learned dance moves and the words to a lot of song extracts. There was a food medley, a popular song medley and a songs from the shows section. We learned "When I grow up" from Matilda – we'd really like to put that play on in school one day as the song is brilliant!
We started rehearsals at 2pm and finished at 5pm . We were really tired then and ready for something to eat and drink. The parents arrived between 6pm and 7pm to watch us and when the concert started at 7pm, somehow we found a reserve of strength and we sang and danced for all we were worth!
We were lucky enough to watch Lucy Spraggen and to sing along to her newest song – "We Are Unsinkable". We also saw a new boy band for the first time called Mic-Lowry who sang a wonderful Stevie Wonder song called "I Wish" and we joined in with that too!
Well done to everyone who attended. It was a very long day!
An assembly for all children learning to play musical instruments was enjoyed by the school and their parents.
Several music teachers visit the school to teach children piano, violin, cello and guitar.
We run a KS2 choir which regularly performs within school and in the community. Last year the choir won a trophy in the Calderdale Music Hub Festival.