We use the questions the children come up with to inform our planning and enhance our environment. Children also get a chance to research and discover with their parents at home. We gather together all of the pictures, paintings, print outs and drawings and stick them into our 'Floor Book' in order to record our learning throughout the year. Some questions may only take a week to explore and others may take longer, the benefit of using this model to inform topics and planning is that EVERYTHING comes from the children.
Early Years Foundation Stage
Your teacher is Miss Hannan
with Mrs Beevers.
Look at the EYFS curriculum here.
Transition meeting powerpoint here.
Reception and Nursery had a brilliant time at Blackpool zoo on Thursday! We saw all sorts of animals and loved the coach journey. We saw zebras, lions, anteaters and giraffes! We loved watching the sea lion show, they did some fabulous tricks. Loki said his favourite was the pack of wolves. April liked it when the gorillas beat their chests. Mani loved the elephants even though they were a bit smelly! It was a lovely sunny day (even though the weatherman said rain and thunderstorms!) so we ate our lunch on the grass like a picnic.
Thank you to Mr Roy, Ms Coates, Mrs Mclaughlan, Mrs Beddoe and Mr Paton for coming with us and helping Mrs King and Miss Hannan look after us.
This week early years became astronauts! We received a letter from NASA asking us if we wanted to join the program. We had to complete 4 different fitness tests to see if we were fit and strong enough to become astronauts. We had to complete a spacewalk, an agility test, a zero gravity training exercise and understand our heartrates. We all passed! We are very excited to go into space one day.
This week we had phonics in the sunshine! We used the magnetic sounds to write real and pretend words. Our friends then had to read them. We wrote some really tricky words!
Thanks to the sunshine our strawberries are finally starting to grow. Elodie and Oliver spotted 3 ripe ones ready to eat. After washing them they were able to taste them. They were very sweet!
Don't forget to bring in sun hats and sun cream, we love playing outside but we need to stay safe.
We watched the Circus tent being erected. We can't wait til the afternoon.
We finished the year with a dressing up day to conclude our Floor Book question about Knights, Dragons and Princesses. We had lots of beautiful princesses, a wily wizard, a king and many brave and courageous knights. All of the children made up their own stories based on their characters.
In maths we have been learning about addition using concrete methods and we have also been introduced to money and the different coin denominations.
We have now started a new Floor Book question about ice, winter and polar animals. The Ice Queen has visited us and frozen some of our toys! We are now busy writing letters to the Ice Queen to ask her to stop this silliness…
Our wonderful Christmas Nativity.
This half term we have started Funky Fingers which the children absolutely LOVE! We are slowly building up those all-important wrist and finger muscles to help us write better. WE went on a lovely autumn walk, crunching through the piles of fallen leaves and finding treasure to bring back to class. We found conkers, acorns and lots of very interestingly coloured leaves, yellow, orange, red, purple and gold. We also made some dinosaur eggs out of flour, water, tea leaves, sand and salt; we mixed our concoction together then moulded the dough around a small toy dinosaur, it was gooey and sticky but great fun. We then hid our dinosaur eggs in the playground and got our Year 6 buddies to find them.
In maths we have looked at making numbers in different ways by using beads and bead strings, we looked at the different ways we could make 5 and then used these to make the correlating number sentences.
Over the first two weeks nursery and reception have been getting to know their classrooms, the new routines and all of the new children who have started in our EYFS unit.
We have been painting, getting messy, enjoying our new reading corner and playing in our outdoor space with the crates, blocks and material. The children love making dens and playing hide and seek. We read the story of The 3 Little Pigs and acted it out in the shed. The 'pigs' built their houses and Frankie the Big Bad Wolf tried to blow them down! I think she found it quite difficult.
Welcome back to the new school year 2016/17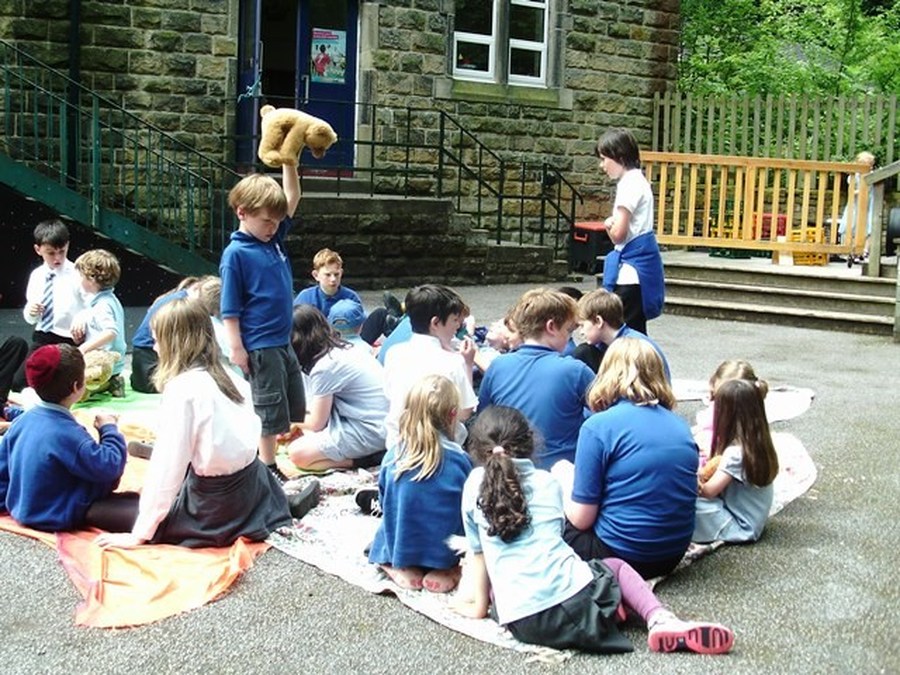 Our buddies in Year 6 joined us for a Teddy Bears' Picnic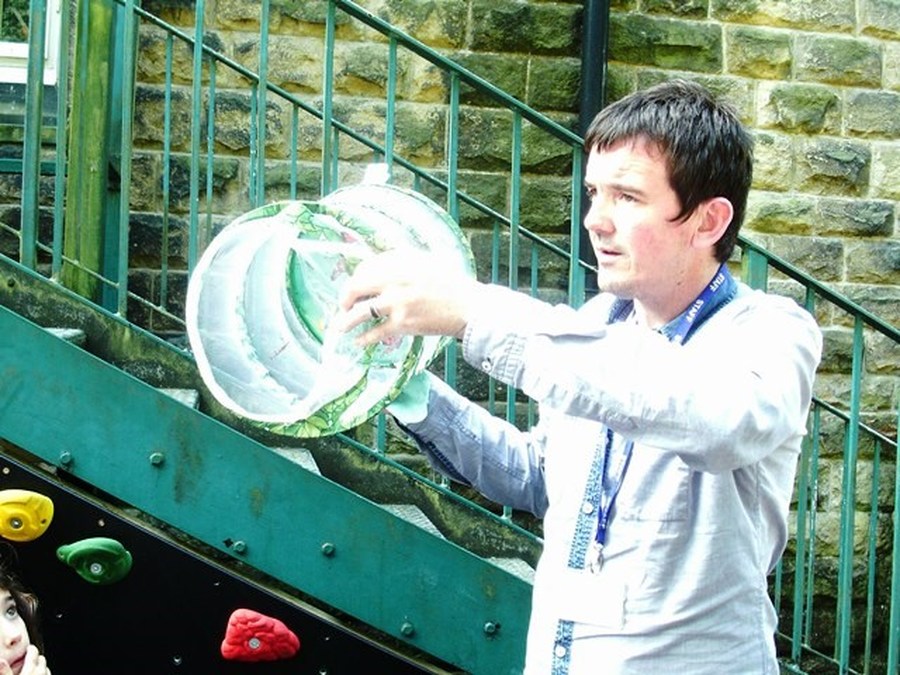 We let the butterflies out today!
We had a fantastic time at the Sea Life Centre.
Forest School has started again! We've been making dens for animals, feeding the birds and also using lots of tools to cut wood, hammer in wooden stakes and dig for dinosaur bones and volcanic rock. This week we all had a go of whittling wood for cooking our marshmallows over the fire yum, yum!
Look at all of the wonderful things we have been experiencing in Rawtonstall Wood.
We have been very busy this term in reception and nursery. The fairies and elves have come to visit us as the children wanted to learn about these for our Floor Book. We have had things go missing from our classroom which has bought the children's detective skills to the fore! Luckily the fairies left us clues so that we could locate our missing items, they just wanted to have a bit of fun and be mischievous; they're good fairies really.
We have been extremely productive in maths looking at doubling using dominos, sharing fairies and elves equally into Peter Pan and Fairy Land and making up our own number stories we have also been learning about 3D shapes and their properties. One day in January Mr Paton and Mrs Beevers shrunk us all to the size of a carrot! It was so much fun playing around in the classroom looking up at all the giant furniture but also scary because Mr Paton's feet were MASSIVE and if he wasn't so careful he could have easily squashed us all!
Exercising to music is great fun
We hope you enjoyed our Nativity performance.
We have had a lovely start to our year in Reception and Nursery. We have been busy getting used to the new environment and learning how to use all of the lovely resources we have in the classrooms.
Our Floor Book questions have been about 'dragons' and 'angels' and so we have completed lots of lovely art work and number stories about dragons and we had a special visit from Reverend Pask, who spoke to us all about angels. The children had lots of very interesting questions for him to answer.
We have also really enjoyed our daily Funky Fingers activities.