We use the questions the children come up with to inform our planning and enhance our environment. Children also get a chance to research and discover with their parents at home. We gather together all of the pictures, paintings, print outs and drawings and stick them into our 'Floor Book' in order to record our learning throughout the year. Some questions may only take a week to explore and others may take longer, the benefit of using this model to inform topics and planning is that EVERYTHING comes from the children.
Early Years Foundation Stage
Your teacher is Miss Hannan
with Mrs Beevers and Mrs King.
Look at the EYFS curriculum here.
Today we visited Gordon Riggs. We bought two apple trees to plant in the yard and some different herbs to make our outdoor learning area smell delicious! We will be planting these on Friday afternoon as part of Grandparent Gardening week.
We were also very lucky to see some rabbits and a bearded dragon. As we were so well behaved the staff at Gordon Riggs let us stroke the bearded dragon! He was so friendly we wanted to keep him but Miss Hannan didn't think it was a good idea…
On Wednesday Helena from Phunky foods came to see us. She told us all about different fruit and vegetables. Isaac said "they make you healthy and help you grow and get stronger". Did you know we should eat 5 portions of fruit and veg a day? A portion is what can fit in your hands. We also looked at 'eating the rainbow'. This means eating lots of different coloured fruit and veg. Miss Hannan was amazed by all the fruit we could name. We talked about our favourite fruit and most people chose strawberries. We are going to grow our own when the weather is nicer! Maybe we could make some strawberry jam or triffle. Yum yum, we can't wait!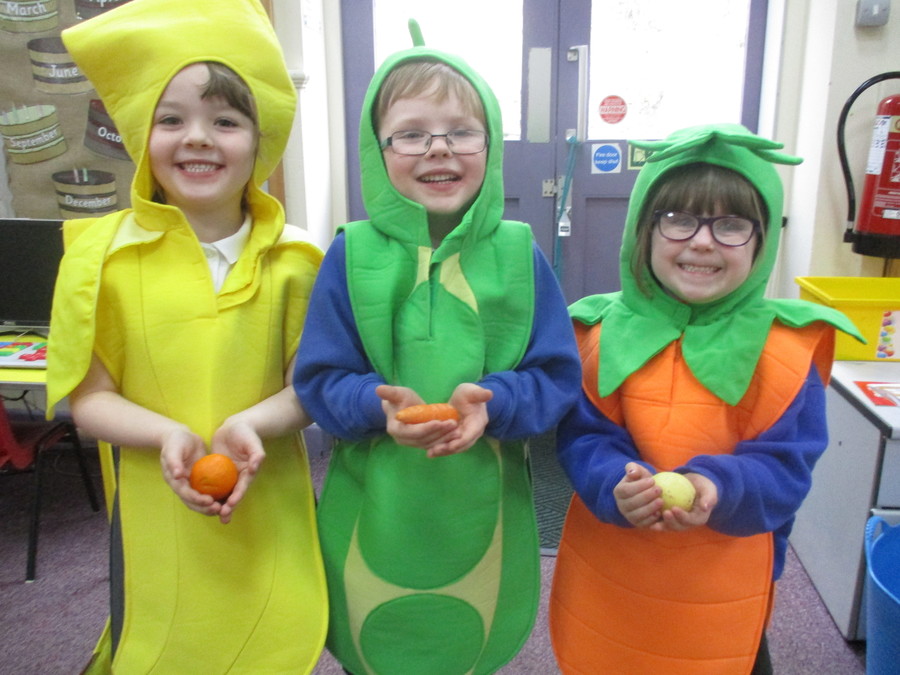 The children of Reception class wrote to Miss Young to ask if they could plant some trees in our garden because they had been thinking about how important they are to our planet.
Miss Young wrote back and set them two challenges!
This week the children in EYFS wanted to learn about Volcanoes. Did you know the world's tallest volcano is in Hawaii? We looked at what makes a volcano erupt and then made our own. As a class we gathered stones to cover our play dough volcano to make it look a bit more realistic… We then used washing up liquid, bicarbonate of soda and vinegar to recreate lava erupting from a volcano. It was amazing but it smelt a bit funny!
In art we have made a penguin play park. We used junk modelling boxes to build it and painted it snowy white so the penguins would feel at home. We then used egg boxes to make some penguins. We love acting out stories in it. We are really proud of what we have created with Miss Moreland.
Christmas fun at Upsy Daisy!
This last half term in EYFS we have been learning all about the nativity story. We looked at how babies grow into adults, why the baby Jesus is so special and we learnt some Christmas carols which we sang at Mytholm Meadows. We have also been practising our own Easy Cheesy Nativity. Thank you all for coming to watch and being a brilliant audience, I think you will all agree that the children did a fabulous job, all of the adults in EYFS were extremely proud!

Throughout December we have had a visitor in our classroom, An Elf! He appeared through a tiny door and has been moving every night since. He hid in our post box, zip lined across the classroom and even tried to join in with our nativity! Silly Elf! The children have enjoyed writing notes to the elf and being elf detectives! We will miss him when he goes home to the North Pole.

In maths we have looked at money, finding the total amount as well as more and less. After the holidays we are going to continue working within 10 and discover measuring!

Have a wonderful Christmas and new year.

We can't wait to see everyone in 2018!
This half term we will be getting to know our new classroom and friends. We will also have funky fingers sessions, music and dance, art with Mrs Moreland and phonics (starting w/c 25.09.17).
We had a super first day back and have loved exploring all the resources in our classroom. Have you seen our amazing new waterwall?
Thank you for building it Mr Eccles, we love it!